思い返せば、最後に槌を振るったのはほぼ半年前になる。炭の火床とアンビルを出し、鍛冶作業を始めるとどうしても半日から丸一日の作業時間が必要となる。このために中々鍛冶をする時間を捻出できないために鍛冶作業から遠ざかっていた。
これでは悶々とする日が続くだけなので、簡易のガス炉を組んでみた。上手くすれば小物くらいなら1,2時間の作業で打てるはずだ。
Now that I think back, the last time I held my forging hammer was almost half year ago.
The reason was that if I pull out my forging sets and start the forging, I would need at least half day to one day of work time. And that was quite difficult get these days.
So, I thought fixing some easy gas forge might give some solution.
早速ガレージに行き耐火煉瓦を積み上げ、ハンドトーチに火をつける。ためしに古ヤスリを過熱してみた。何とか変態温度までは持っていける様なので、そのまま鍛造に入ってみた。
I should have sufficient material to make this set up, so went to garage and piled up the firebrick and lit the hand gas torch. To test this set up, I have heated up a old metal file… seems to be able to bring to transformation temperature so started to forge.
鍛造温度へはやはり持っていけないので、すのべ作業は無理、グラインダーであらかた形を出しそれを姿だしするだけの作業。小物作り用にはちょうど良い。
ついでにスプリングスチールのワイヤーも叩いてみた。スプリングスチールで、どのくらい切れるものが作れるか試してみるためだ。
It is not possible to brig it to forging temperature, so cutout the rough shape with grinder, then shape it with hammer. It is good enough for making small items.
I never have used the spring steel, so to see how it works as a blade material, I hammered a spring wire as well.
今回作っているはこれ、古ヤスリからは肥後守式小刀。スプリングワイヤーからは吹き矢用の矢尻。
This time, I have forged these. From the old file, blade for a friction folder and from spring wire, arrow tip for a blowgun darts.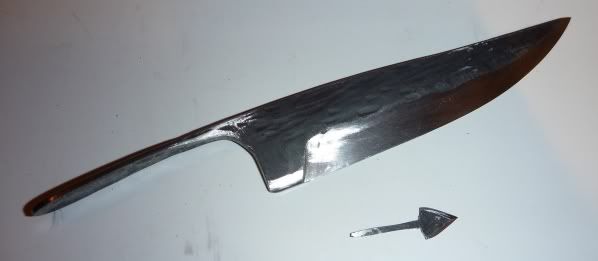 どちらも熱処理はまだ。フォルダーなのでまずはハンドルの方を作る必要がある。焼入れ前にハンドルとの摺りあわせをある程度しておかないとかなり大変な作業になってしまうし、そもそも穴あけ作業が出来ない。フォルダーの中で最も単純な肥後守構造、それでもシースよりはるかに手間が掛りそうだ。
I have not heat-treated these yet because I need to fit the blade to handle first. After tempering, it will be very difficult to make adjustment and make pivot hole to it.
the most symple constraction among the folder knife, yet takes lots more work than one fixed blade...