JPBKβ2へ少し手を加えてみました。今までパラコードだった緒をやめて、革のベルトループ式に変更。
I have made small modification to the JPBK beta II. The modification is to the sheath, replacing the 550code to leather belt loop.
↓↓↓変更前のJPBKβ2- JPBK beta II befor modification. ↓↓↓
理由は
1>パラコードでは細くて安定が悪い。真田紐などなら良いが、手に入らない。
2>ベルトキット構成用の良いベルトを手に入れたので、ぜひ活用したい。
という2つの理由から。
The reasons of making this modification are:
1> 550 code as belt is too thin and unstable. Something wider code would to better, but cant find one I like to use.
2> I have got a nice belt which planning to be a outdoor belt kit. So really wanted to utilize my new belt.

で、完成したのがこれ。
And so, this is what came up.
↓↓↓↓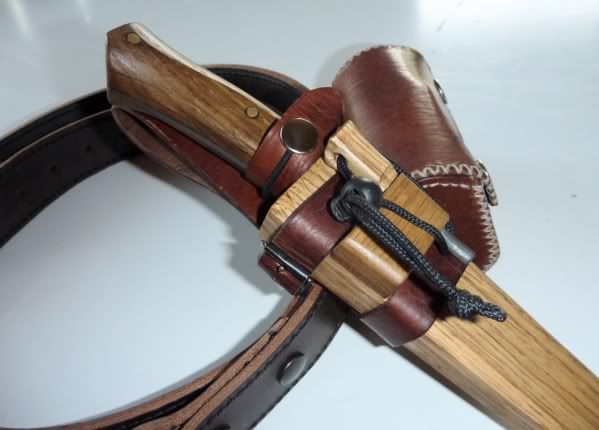 意外と苦労したのは、固定用の小さなベルトバックルの位置。ファイヤースチールが正面に付く鞘なので、バックルは側面に付けるしかないのだが、その位置決めが微妙。ちょっと前すぎても後ろすぎても突起してしまう。見た目もある程度気にしないといけないから更に難しい。
ナイフ固定用のループへはクリス・グラント(Chris Grant = Silver Fox Bushcraft Knifeの作者)のアイディアを拝借。ゴム紐をスナップボタンの間に渡し、スナップを外すと同時にループが開く仕組み。これでナイフの抜き差しで切ってしまうのを防げる。
It was surprisingly difficult to set the small belt buckle to good position. Tiny bit foreword or backward will make the buckle sticks out.
For the loop, which secures the knife to the sheath, I took the idea from one of Chris Grant's knife. It has elastic code between snap buttons. So when the button is released, it opens up itself and does not get on the way of blade.
この新シース、早速腰に下げて試してみたがなかなか調子が良い。ちょっとColtSAAを下げているような気分になる。試しにバックパックも背負ってみたが、バックパックのウエスト・ストラップにも干渉しない。早くベルトキット完成させて、秋の森歩きに行きたくなってきた。
I have tried this new sheath with the belt, and I really like it. It bit feels like hanging Colt SAA or something. Tried the backpack on as well. And it does not get on the way of hip belt of the backup. Can't wait to complete this belt kit and get out to autumn forest.