初打ちで打ったプーッコ2本ついに完成です。作業が遅いのと、レザー入手に時間がかかったことで2月に入ってやっと完成です。
The two puukkos I have forged on New Year time are finally completed. I was working on it but slowly and getting leather for sheath was little troublesome, so took really long time to finish these.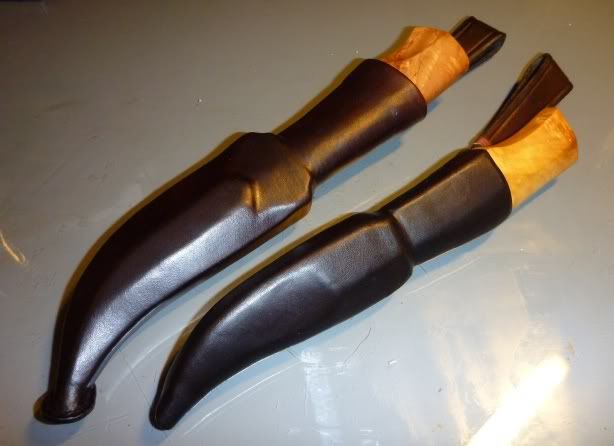 違った用途のプーッコを二本。大きい方は比較的トラディショナルな汎用プーッコ。小さい方はカービングなどの削り作業に特化したプーッコ。
Two different sizes of puukko. One is quite straight forward traditional way general purpose and other one is specialized for whittling job.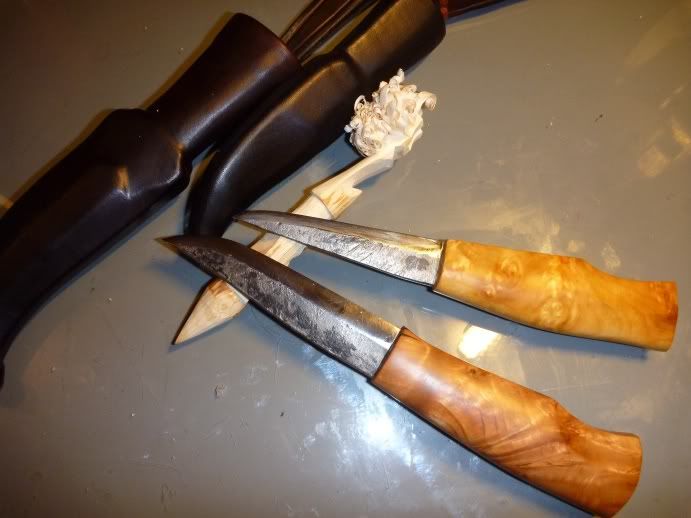 刃渡りBlade length : 11cm & 9.5cm
全長 Total length : 22cm & 20.5cm
コンシールドタング consealed narrow tang
スカンジフラットグラインド Scandi flat grind
少しダイヤ気味のブレード・プロファイルSlithly diamond blade profile
柄はアルダーの根(ナイフ大)と白樺瘤(ナイフ小)
The handle materials are alder root (on larger knife) and birch (on smaller knife)
お決まりのトライスティックとブラス棒テストは合格。ただ、いつもよりも軟らかめに仕上がってます。まあ、問題はまったく無いですが。あと、バトニングに絶えるかどうかは自信なし。多分ブレードとタングは問題ないと思いますが、ハンドル材が衝撃に耐えないかも・・・
As for usual testing, whittled a try stick, and also brass rod tested. Both passed, but I must say, the blade is little softer than my preference. Also I have to note that I am not very confident using these for batoning. The blade and tang would withstand the stress but not sure about the handle.