It seems my mind is filled with neck knife project. Yesterday evening while I was watching TV on couch, those 4 mock ups were in my hand. I was checking the feeling of the shapes. Holding it in different carving and whittling grip techniques, try to imagine of using it on small game and fish preparation and skinning…
The plan No.1 really amazed me on this test. For some carving and whittling grip techniques, I felt little uncomfortableness due to recurvate of the handle butt. But nothing serious, I just need to adjust the holding a little to compensate. I imagine that, if this was a full size, it should have no problem. Anyway, this type of issue is a characteristic of 3 finger handle.
 どうやら私の脳はネックナイフプロジェクトで一杯になっているらしい。昨夜、お気に入りのテレビドラマを見ている最中も、ドラマの内容そっちのけでモックアップを手にアーダコーダ。削り作業に使う握り方色々試したり、スモールゲーム(小動物狩猟のことね!)や魚さばくのにどんな感じなのかと悶々と創造を広げる状態。
そんな事しながら気づいたのだが、木型No.1(昨日の記事参照)はかなり期待大。削り作業に使う握り方、リバースグリップの一種で少々力が入れにくい問題が出ているものの、握り具合を少し変えれば解消できそう。そもそも、あの握り方は3フィンガーハンドルには向かない握り方だし問題ないでしょう。
One viewer of this blog has commented me of some idea. "What about Tosu knife". Tosu knife is a kind of small utility knife or pen knife used in Japan and has very long history. Long- long time ago, it was functioned as utility knife but also as a part of dressing accessary among the high-class society.
In Later Samurai time, similar knife was popular to accompany Samurai sword, known as Kozuka-Kogatana (decorative small utility knife).
On some point, I got very interested in making this type of blade and gave a try. Made it in desk top utility knife style. And now I look it again, I can see so many un-satisfactions on this knife….
However, The idea of Tosu knife as a neck knife would be interesting to try. Just … based on my previouse Kozuka-Kogatana making, to make this type of knife and make it look decent is a very difficult job. Not to mention that to make it usable one requires the skills, which I do not possess…. yet.
 とまあこんな感じで想像を膨らませているところへ、百さん(いつも楽しみに覗かせてもらってるブログの管理人様)からいただいたコメント>>>
「いっそ共柄の刀子?みたいのはどうかと思いましたが氷点下のフィンランドではちょっと使いづらいですね(;^ω^)」
あっっっ、、良い!!良すぎる!!あれなら元々下げて携帯するものだし小さくもしやすい。共柄だと強度も出るし、冷たくなるのは籐巻きにすれば解決!
と鼻息荒くしつつ思い出した。だいぶ前に小柄小刀風ナイフ作ってものすごく苦労したことを・・・
薄いから熱処理難しいし、厚くすると野暮ったくなってタダの小刀になっちゃうし。でもアイディアはすごく好き!また挑戦してみようかな。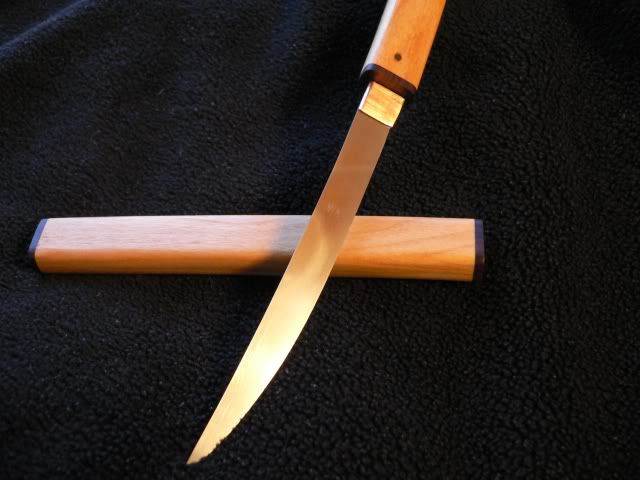 Kozuka-Kogatana knife I made some time ago…
だいぶ前に挑戦してみた小柄小刀風ナイフ