Last Christmas, I have got this brutally made carriage horse type of beast blade call "Taiter Hukari" from my wife.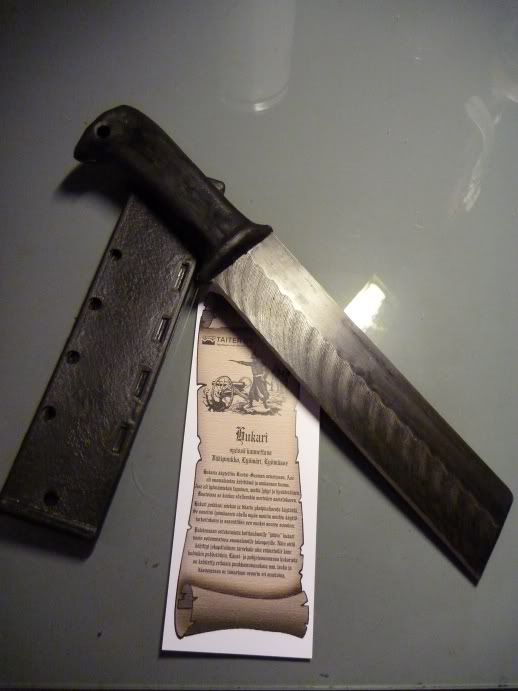 If you like this knife, go check out the shop "Varusteleka"
このナイフに関して、詳しくはこの記事をどうぞ。
Since then I have been using time to time and modifying it little by little so that works better for my needs.
The first thing I have done to this knife was to clean up and change the shape of handle. The overall of the handle shape is not bad at all, but since it is simple molded handle, I needed to clean up. Also was to smooth surface finish of rubber like material, did not feel right on my hand.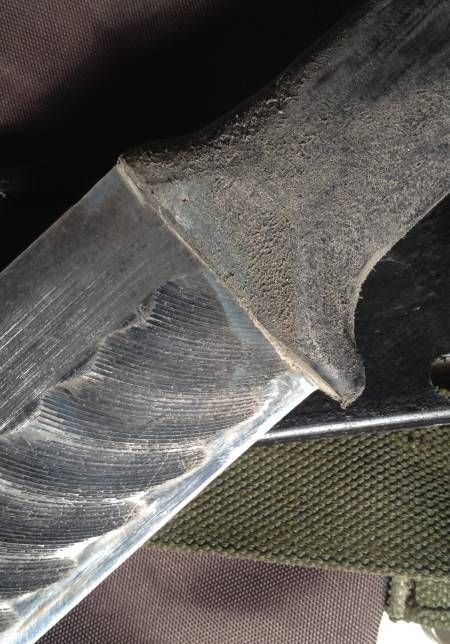 I have sanded the handle all-over to rough up the surface for better gripping and feeling. Also have grinded down the side of hilt so I can choke grip better.
Once the handle is good enough, next place to change was the cutting edge. The original edge was not that sharp for my standard. And was simple tiny secondary V edge, which I do not prefer for this type of blade.
Regrind and sharpen the secondary V edge to secondary convex edge. While I was at it, I have thought of getting lead of those dirty machine markings… but soon realized that those are too deep. If I have done that job, there will not be much of blade left :)
Anyway, Now I think of it, this machine markings are the symbol of "Taiter Hukari". Without it, will be boring blade…
Next modification was also to the blade, but to the spine. This blade has nicely rounded spine, which is nice and I like it, but not good if I need to strike a ferorod.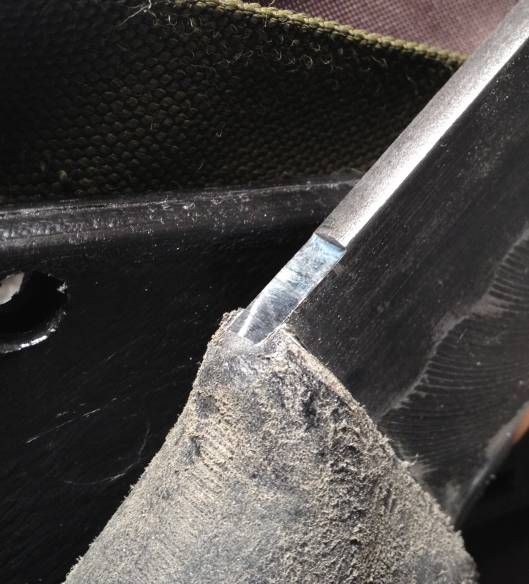 So I have grinded down tiny part of spine, close to the handle, to make angle edge. Now, I can use this part to make spark, no need to damage the cutting edge.
The modification on knife itself is quite enough at this point, so next up is the sheath. In a way this is the biggest problematic part of this Hukari knife. It is a working sheath and the looks does match the knife :) but there is no usable carrying method. There is a kind of belt loop on back of sheath but totally useless so have added some dangling loop with easy release system.
So here it is, the modifications completed, and Oh, have added the LMF army as well.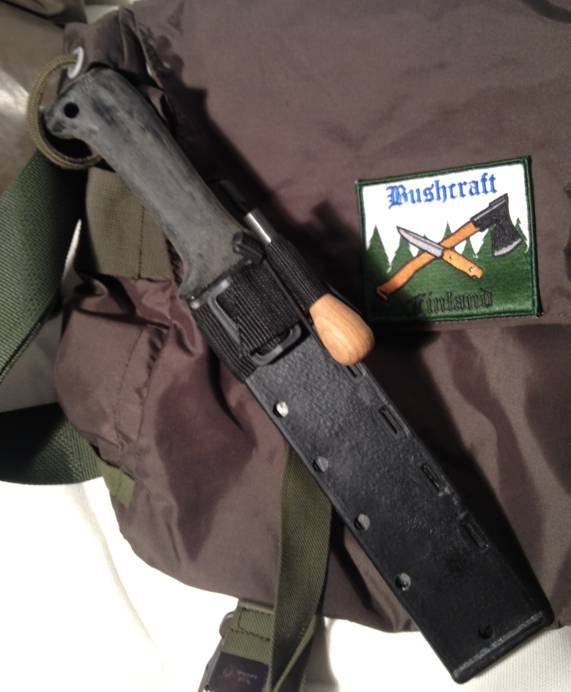 To be honest, I was originally planning on complete remaking of handle and sheath for this knife. But as I added the small changes, it started to become more and more "Personal", realizing that this is actually Good this way.
Perhaps will do make some big change in some future, but for now, this is where I am stopping.
Let's see, how this will perform this weekend at BcFin meet up!