OK, let's see what are packed inside.
First, how everything are fitted in the bag.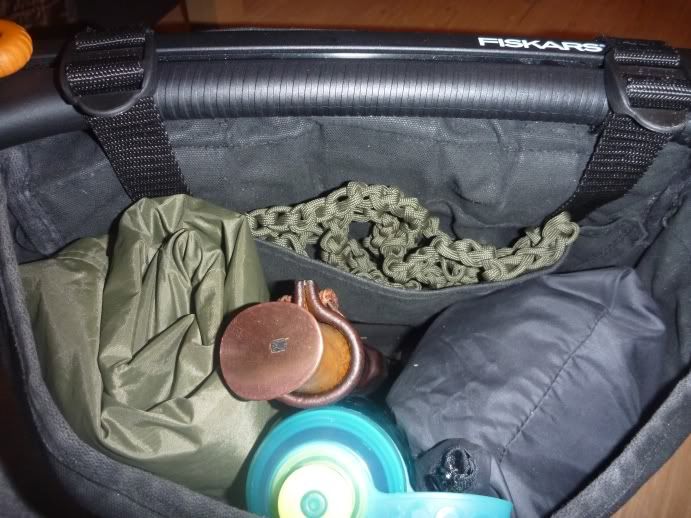 On top, the saw is strapped. Then paracode is in the pocket, lest are fitted to large compartment. Rain poncho, Knife, water bottle and the brew set.
上部、かぶせ裏には鋸、内ポケットにはパラコードそしてメインコンパートメントへ残りの物>ポンチョ、ナイフ、水筒そして湯沸しセット。
The brew set contains several items. I also pack the tinder bag and Light my fire in here as back up.
湯沸しセット。ここにはバックアップ用の火打ち袋とLightMyFireを入れてある。
The tinder bag: Flint, char cloth, Fatwood, Birch bark.
火打ち袋>火打石、チャークロス、ファットウッド、白樺の樹皮。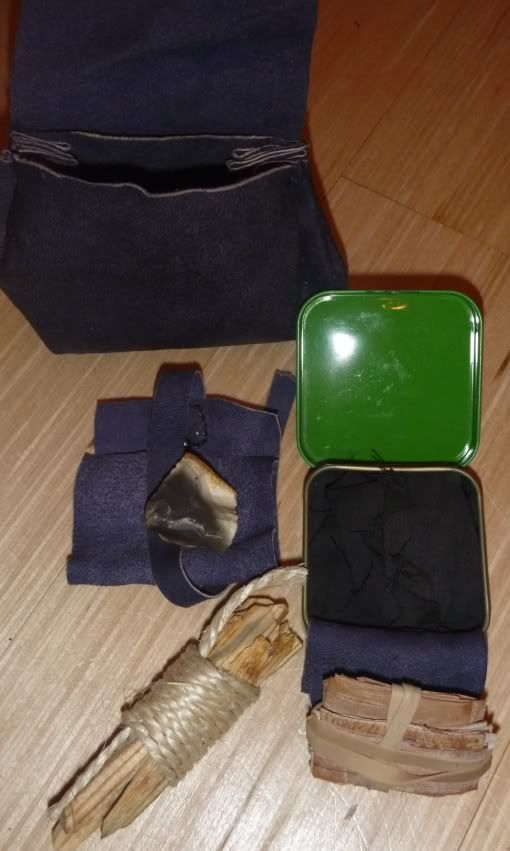 Brew set: 1L stainless mug, Hobo wood-gas stove, Light My Fire fire steel, spork, coffee and powder milk.
湯沸しセット>1㍑ステンレスマグ、ウッドガスストーブ、ファイヤースチール、スポークとコーヒー&粉ミルク。
And the last item. This is not packed in the bag, but since this one is the extended part of this pack set, so introducing it as the last item.
It is a 1 sheet of Belgian army shelter half (170x170cm canvas poncho/tarp/shelter). It is little small compare to usual tarp, but big enough to block wind, rain and possibly over night shelter in summer.
最後のアイテムは、ベルギー軍のポップテント。

170x170cm

のキャンバス地の物で、シェルター、ポンチョ、タープとして使うことが出来る。通常のタープよりも小さめだが、風雨から身を守るには十分な大きさ。夏ならこれで野営も

OK!

なはず・・・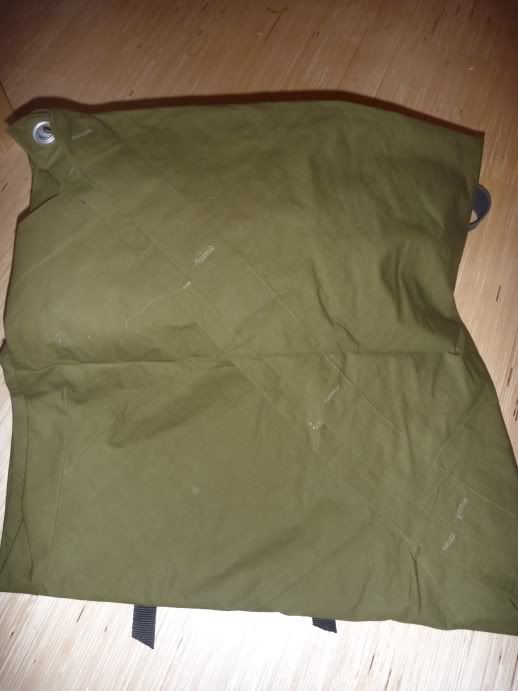 So, this is my mini pack setting I carry for short trip. The updated part from the previous set is the Bag, saw and shelter half. Of cause, I do not carry all these items all the time that leave behind the items, which are not needed as par trip.
Also would like to note, that the shelter half is the latest addition to mini pack and have not used it yet in action, so that, I am looking forward to test sometime.
これでミニパック紹介のエントリーは終了します。このセットは気軽に数時間から

1

日のショート・トリップ用に組んだ物ですが、常にすべてを持ち歩いているわけではない。毎度毎度の予定に応じて、内容を足し引きして持ち出すのが目的。使わない物を持っていっても意味無いしね!