Recently I have renewed my mini pack, so I though it is good time to introduce it in here.
I have been using hip bag for sometime, but was not quite satisfied with it and got broken. Since then, I have been looking for a new bag but then realized that I have this old bag (as I got this one about 20 years ago), which can be used as shoulder bag or backpack.
It is made of wax coated heavy canvas and been taken beat over the year, but still very much in serviceable condition. No way to trash it.
今まで、ヒップバッグをミニパックとして使ってきたのだが、使いにくい上に、ついに壊れてしまった。そこで、何か良いバッグは無いかと探していた折、押入れの奥で埃をかぶっているキャンバス地のバッグを発掘(発掘も発掘、まさに中二病の時に買った物)。
結構くたびれてはいる物の、まだまだ現役で使える状態。これは復活してもらうしかない。
I have added few straps on inside of the rid and out side bottom to accommodate extra pack-ability.
The image above is the Mini-set. The image below is the Extended-Mini set.
かばんの底と、蓋の内側にストラップを追加して収納力アップ。
写真上がミニパック基本セット。下が、ミニパック・エクステンデットセット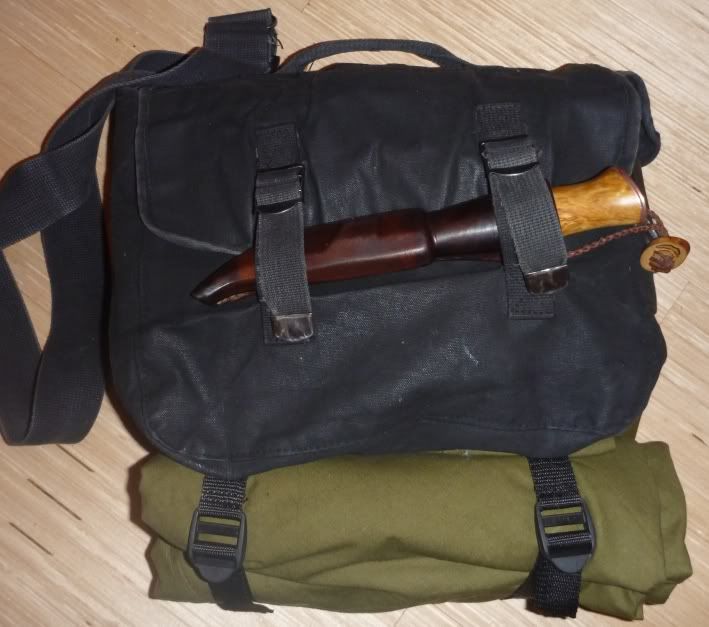 Here are the contents in brief. Still few items missing and I am planning on modifying the bag little more, but basically this set is good to go as it is.
もう少し追加する予定だが、使える状態なので中身を簡単に紹介。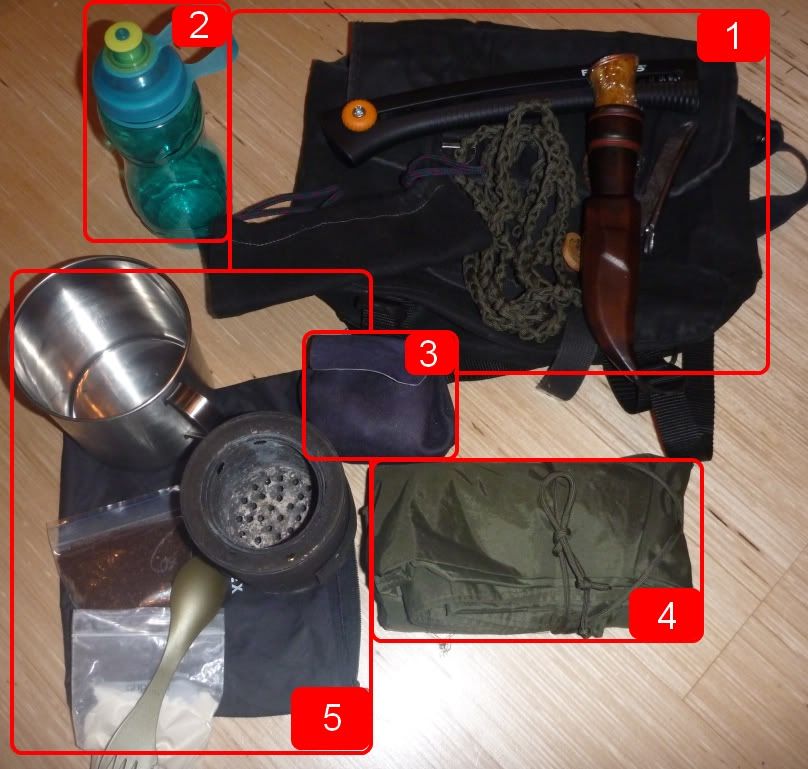 1: Bag /MakiriPuukko/ Fiskars Big Garden Saw /Para-code 10m /Dump pouch / fire steel.
バッグ
/
マキリPuukko
/
フィスカルス 園芸鋸(大)
/
パラコード10m
/
ダンプポーチ
/
火打ち金
2: Water bottle 1L /
ウォーターボトル
1
L
5: 1L stainless mug – Hobo Wood gas stove – Spork – coffee – skim milk
1㍑ステンレスマグ
/
ホーボー・ウッドガス・ストーブ
/
スポーク
/
粗引きコーヒー
/
粉ミルク
I will go through in more detail on other entry later.