一本目完成です!!!
Ihave compleated the first one!!!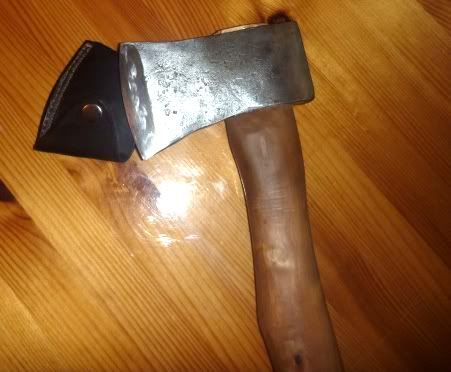 斧の刃がわは真鍮ブラシで磨き、後ろの方は薄い黒錆の上にアマニ油を焼付け。
シースはもっと色を薄くする予定だったのだけど、ワックスをたっぷり染み込ませたら真っ黒に・・・まあ良いでしょう。
On the edge side of axe head is polished with brass brush. The backside is heat coated with linseed oil on top of thin patina. the sheath, I was planning on light brown, but after soaking enough wax in, it became like black… well, it is still OK…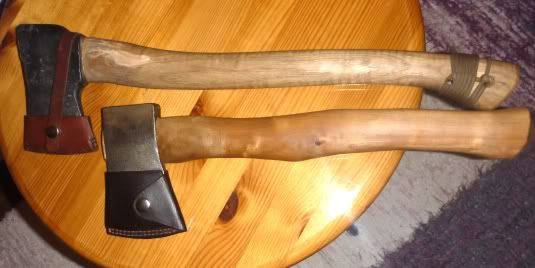 これで斧2本になりまた。ビルナスと比べるとこんな感じ。柄は全体的に太めですが、自分にはこの位の方がしっくりきます。使ってみて太すぎる様なら削ればよいわけだしね!
それにしても、自分で作った柄は良いです。自分の手に合わせて使いやすい様にと考えながら作っただけあて、持った時にしっくり感があります。それに、『折れたら直せるからいいや!』と言う安心感と言うか、自信があります。レイミアーズも時々言ってますよね、『自分で修理できない様な物使うな!』って。
Now I got 2 working axes! It looks like this next to Billnäs. I made helve thicker, and seems better fits me this way. If start to feel too thick, then I can easily make it thinner.
However, it is really nice to have self-made helve. It really fits to my hand when pick it up. Also, it gives some sense of security that, "I can fix this if breaks". As Ray Mears said, "Shouldn't be using, if you can't fix it!".