週末にアップ予定だった裏山ブッシュクラフトですが、ブッシュクラフトフィンランドのオフ会があったので、今週末にアップすることにしました。楽しみにされていた皆様、申し訳ありませんがもう少しお待ちください。
Spring meet up...
I am not quite sure where to start or how to tell. It was great meet up, so many activities, lots of information received and lots to process.
Unfortunately it was only 3 of forum members could have join this time for several reasons and myself was able to join only from 2nd day.
I have arrived at meeting location in early morning of day 2. Luckily, I have managed to arrive while other 2 members were still in bed. I did not miss anything on day 2.
春のオフ会へ参加してきました。本当に内容の濃いオフ会となり、どこから話を始めたらよいか、どうやってブログ記事にまとめたらら良いか迷っております。
残念なこととに今回のオフ会はたった三人のみの参加となり、私自身も二日目の朝からの参加となりました。
前日の夜は、遠足前の子供状態。朝も異常に早起きし、おかげで先行のメンバーが起き出す前に現地到着。二日目のアクティヴィティーは全て参加できました。
After the morning coffee, starting the day 2 activities. First thing first… securing drinking water.
We have had spring water nearby, but for exercising purpose, made survival water filter.
朝のコーヒーを飲み、早速2日目の行動開始です。まずは最も重要な飲み水の確保。この場所は近くに湧き水があるのですが、練習のためにサバイバル浄水器(濾過器)を作ります。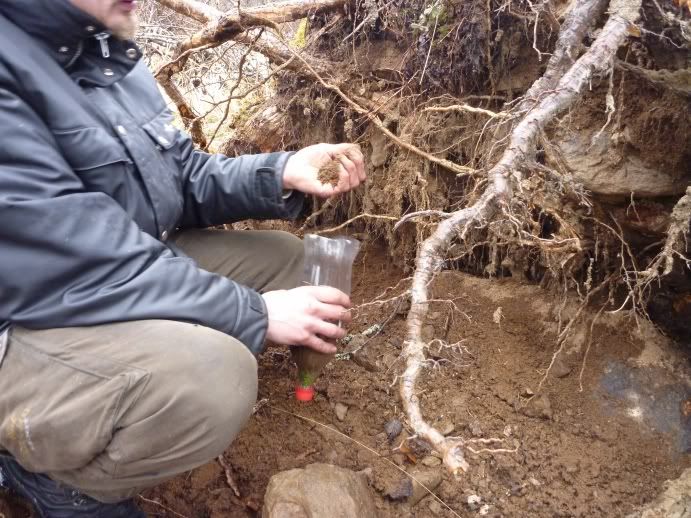 Using what's available to make water filter.
在る物を利用して濾過器を作る。
Once the water is secured, start improving the shelter. Reconstructing the fire pit to more thermal storable and wildfire proof. Also adding more spruce branches to make bedding more springy and insulated from ground.
水の確保が出来たら次はシェルターの改良に移ります。ファイヤーピットをまずは作り直し。火がこぼれないように壁を補強し、さらに蓄熱性を高めます。ファイヤーピットの次は寝床。ウトウヒ(蝦夷松)の枝をさらに追加し、クッション性と断熱性を高めます。これをしっかりと行うと、シュラフマットを使うよりも優秀な寝床を作ることが出来ます。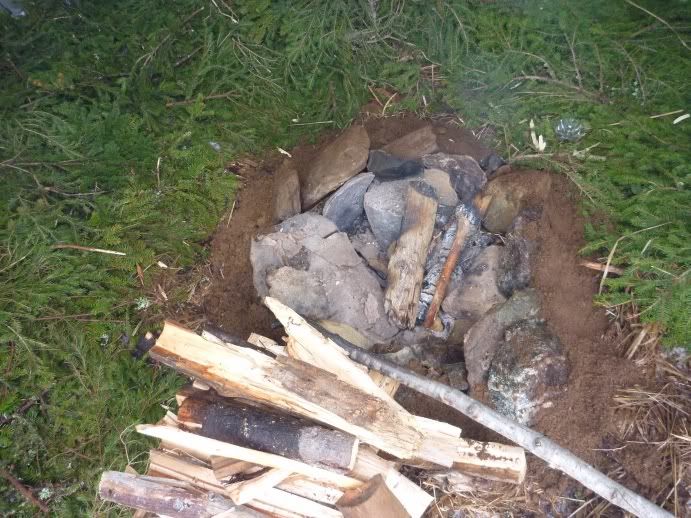 The time goes fast when you are on action... the stomach clock start to beeping… time for lunch.
時間はあっという間に過ぎ、腹時計が鳴り出したのでお昼とします。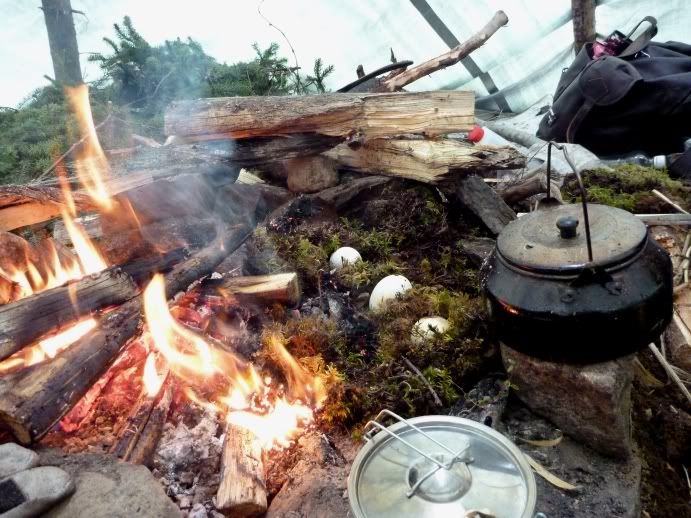 After filling up the energy, it is time to start the afternoon activities. First up is a Bucksaw making. I have done this several times, but no one has taught me how and the plan was to make something that lasts longer and making it proper. So we all head out to look for materials.
エネルギーを補充したら午後の活動開始。キャンプ周りで必要になる道具、バックソー作りです。これは何度か作ったことあるのですが、正しく教わったことがない。しかも今回はフィンランド式の物で、本格的に使い続けられる物を作るということ。まずは材料探し、そして加工です。
Work of our MAESTRO. Made one with style...
マエストロの技。さっきまで森に転がっていた丸太が。。。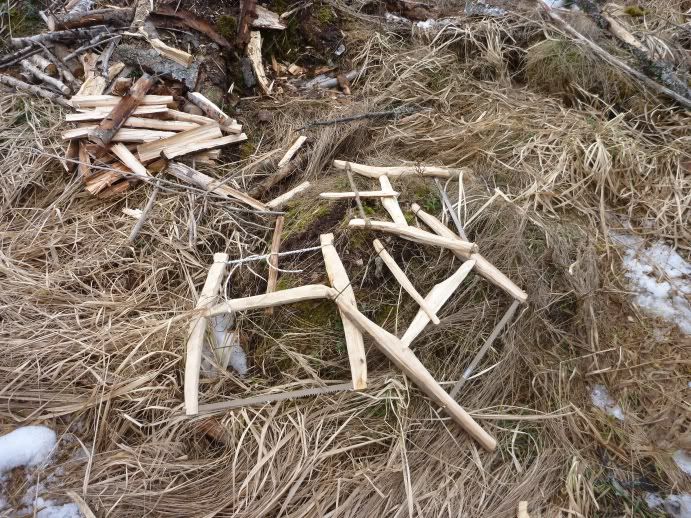 The one I made was without style, just it works.
私が作ったのは真っ直ぐそのまま。ただ使えるだけのノコギリ。

It was still early for dinner, so we took walk around in the forest. Following the deer highway, learning and recognizing the trace of wild life. Also took time to enjoy the beauty of nature. I love the old forest…
夕飯にはまだ早いので、森の散策へ出かけます。トラッキングの練習も兼ねるよう鹿の獣道をたどります。森の美しさを楽しみながら、地面や木に残された野生動物の痕跡を観察し、何がどのような行動を取ったのかを推測します。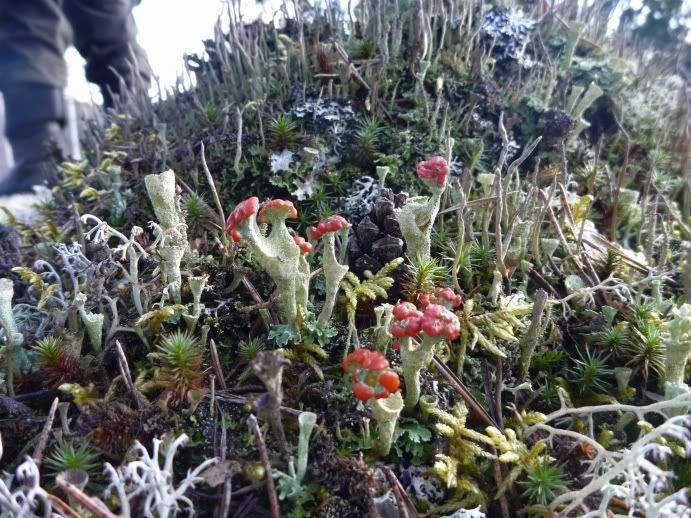 Night fell, but we all are still active in Kota shelter. Processing the Tinder fungus for tomorrow, talking bushcraft , hunting , jokes and about our life. And our maestro Rautasarvi has entertained us with his delicious pancake cooking.
日が落ち、森は真っ暗。しかし活動はまだまだ続きます。コタシェルターの中では翌日に行うティンダーファンガス作りの下準備。そしてブッシュクラフトフィンランドのマエストロRautasarviがとても美味しいパンケーキを振舞ってくれました。絞りたてのミルクから作るそれは今まで経験したことのない美味しさです。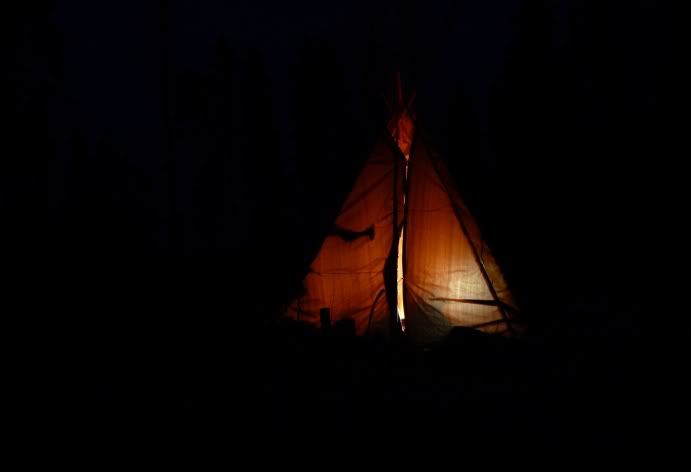 The day 3 was short day. Starting with walk in the forest correcting breakfast and other natural resources we can utilize.
三日目は半日、あっという間です。軽い森歩きをしながら朝食を採集、そして利用できる資源を観察採集してまわりました。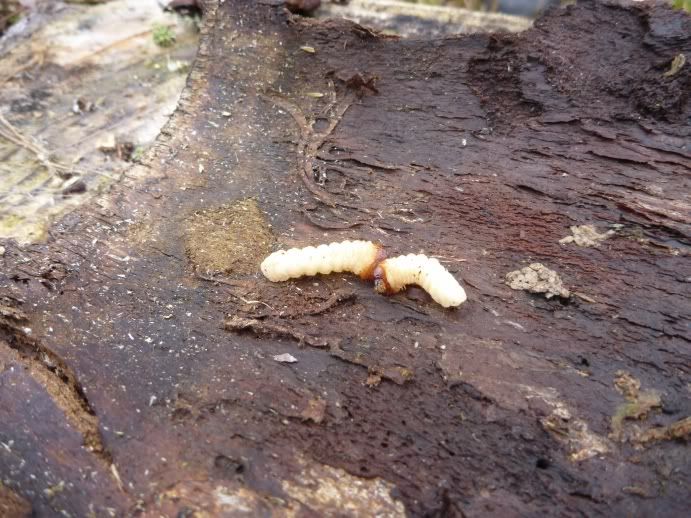 larva of Carpenter ant (Camponotus herculeanus). very tasty like milk with honey.
ニシムネアカオオアリ?の幼虫。蜂蜜ミルクの様な味でとても美味。
Different fungi can be used as tinder.
火口に利用できる菌類色々。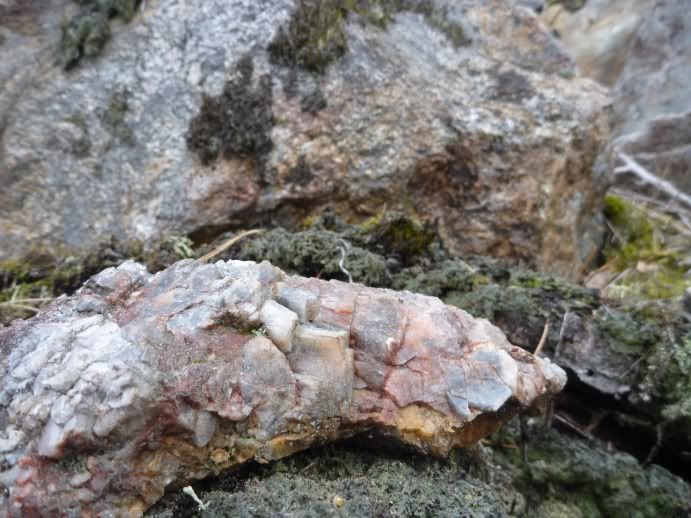 Quartz for making sparks.
火打石に出来るクオーツ
After learning the important acquiring skills, back to camp and time to pack up. Have last coffee brew over the left over fire and start to digest the information and memories we all got during this meet up. Start to think of what we do next time.
Shake hands with each other to acknowledge the deepened ties of campfire brotherhood…
.............................Great time well spent...............................
重要な「獲得する」ための技術を学びキャンプへ戻る。
閉めのコーヒーを酌み交わしながら今回のオフ会で得た新たなスキル、そして思い出を飲み込みつつ「次は何をしようか?」ということをすでに考え始めた。
握手を交わし、さらに深まった焚き火兄弟の絆を確認して今回のオフ会を終了する。
・・・・・・・・・・すばらしい有意義な時間を、思う存分楽しめた気持ちで一杯だ。・・・・・・・・・・・・