On the last week of my summer holiday, I took out my canoe to nearby lake. One of the occasions was with my best friend. We have been talking about going canoeing together since I got my canoe, but was long winter and did not have chance till now.
夏休みの最後の週、冬の間眠っていたカヌーを持ち出して、近場の湖でカヌートレッキングをしてきました。2回行って来たのですが、その2回目はあのクレイジーメキシカンといっしょ。カヌーを手に入れてからずっと、「冬が開けたら一緒にカヌー行こう!」と話をしていたので、やっとの実現です。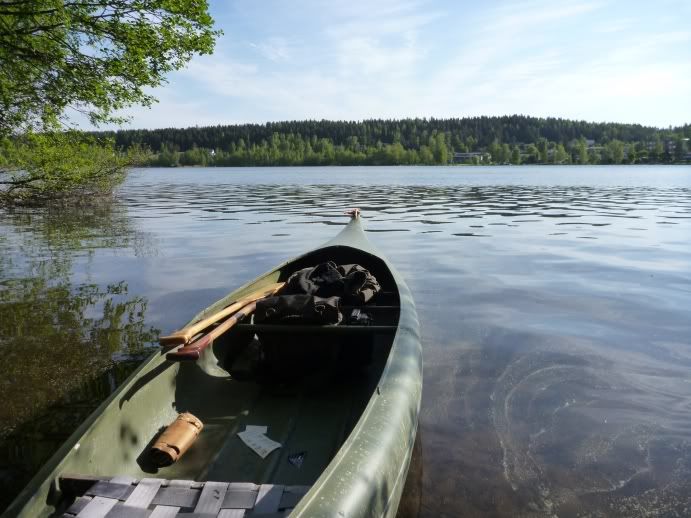 Started the paddling from usual place and went around the lake for a while. Enjoy the scenery and hen came close to the island, we have spotted a pair of Whooper Swan (Cygnus cygnus). We decided to get closer as possible, but carefully not too close, to observe the beauty.
いつも利用している場所から漕ぎ出しまずは湖を一周。そして焚き火の出来る島に近づいた時にオオハクチョウ(Cygnus cygnus)のペアを発見。静かに、そして慎重に近づき肉眼でバードウォッチング。カヌーだとまったく音を立てずに漕げるのでかなり近づけます。(近づき過ぎないように!)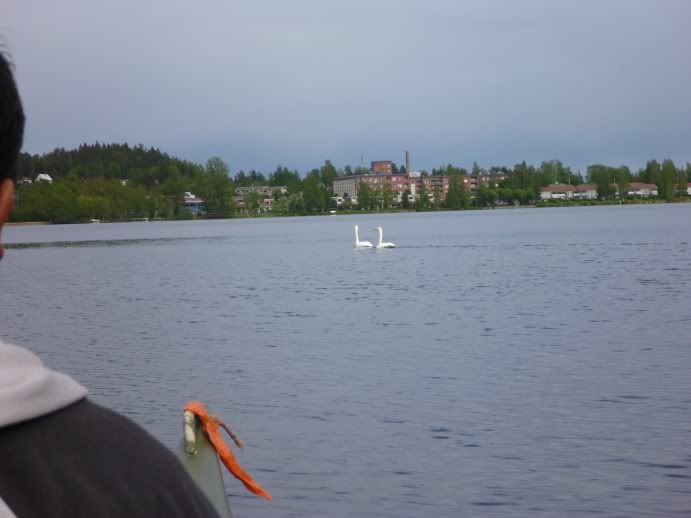 After enjoying the nature on the water, we have landed on the island and time for satisfying the empty stomach.
湖面からの自然を満喫した後は島で空腹を満たすための焚き火です。
Firepit was quietly waiting us...
火床がひっそりと待っていてくれました。
But before we can fill up our stomach, need to start the fire. So walked around to pick some kindling and fire woods. So I thought this would be a good time to give him a knife so he can make himself a makkaratikku (sausage grilling stick).
空腹を満たすにはまず焚き火を始める必要があります。まずはもう一仕事、薪と焚き付け集めです。そして、焚き火周りでの作業をするにはナイフが必要!良い機会ですのでここでナイフをプレゼントすることにしました。
Well, I guess he really was happy about getting the knife. He was whittling something all the time during the fire time and came up with quite good grilling stick system of holder + stick.
よっぽど嬉しかったらしく、焚き火をしている間はずっと何かを削ってました。もちろんソーセージ焼くための串も自作し、ついでに抑え棒まで・・・
Once we are done eating sausages, it was a coffee time. but the Mexican did not bring any cup, so I made him a tuohilippi, the traditional Finnish birch bark cup. But I must confess, this one on the picture did not work. I have used a dried bark and as soon as I pour coffee in, it started to rip itself. I guess I should have used a fresh one and bit thicker bark.
ソーセージを食べ終わった後はコーヒータイム。が、メキシカン君、コップを忘れる・・・そこでフィンランドの伝統的白樺樹皮のコップ、tuohilippiを作ってみた。
が、正直に白状すると、写真の物は大失敗。乾燥した薄い皮から作ったためコーヒーを注いだとたんにカールして裂けてしまった。やっぱり乾燥しきっていない厚めの樹皮を使う必要があるようだ。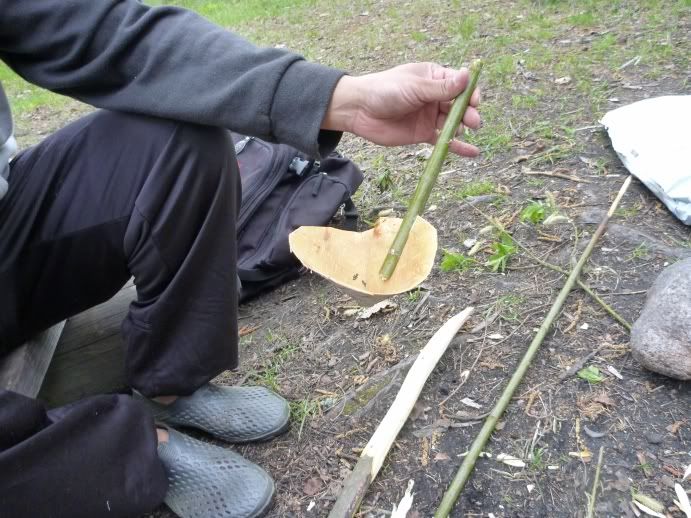 Well, I made revenge on this tuohilippi making later and that was success.
そこでリベンジ!失敗を糧に作り直したものは成功!
After this, we got in to crafting something. Made atlatl, cordage from natural materials and practiced some rope works…
spend very relaxing and enjoyable time then paddled back on lake under the white night.
この後はクラフトの流れになり、アトラタルや紐の撚り方、色々なロープの縛り方などを練習して楽しい時間を過ごし終了。白夜の湖面をパドルして帰路に着きました。