2本目ちょっと前進です。継ぎ接ぎしてあったパドルのブランクを削り出し、サンドペーパーかけまで完了!後は霧吹きで木目を立たせて、#120までペパーかけたらアマニ油塗りに入ります。
The 2nd paddle is in progress. Shaping the blank to paddle then sanded. I still need to sand it till #120 after lightly moistening the grain. Then can move on to oiling.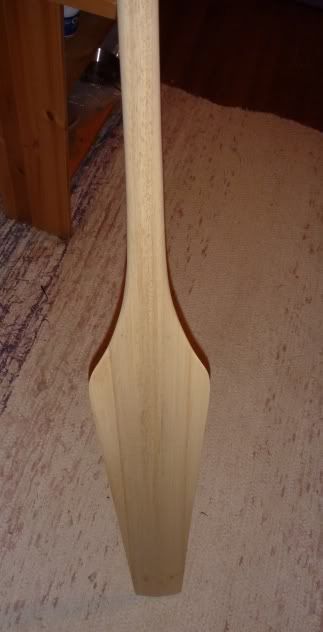 ハンドルシャフトの接ぎの部分、心配していた程悪くは無いようです。色の違いと接ぎのパターン、シャフトを丸く削ったら意外と良い感じです。ハンドルの形も、1本目よりはるかに良い形になりました。
今週末には試せるかな・・・??
It is coming out better than I expected, especially the part where the shaft was extended with other wood. The color difference and pattern it showing, I kind of like it! The shape of the handle is also much better than the first one.
I perhaps am able to try this out this weekend.