This is annoying start of winter. It has been freezing for few days and had little snow. But today +6 Celsius again. I start to wonder, if this stove will have use this year if the weather keeps being like this…
今年の冬はおかしいです。氷点下の日が数日続いたかと思うと、今日は+6度。もし今年の冬中ずっとこんな感じなら、今作ってるストーブの出番ないかも・・・
However, the DIY stove project is progressing. Now I have got to the shape when I can do the "Smoke" testing. Everything except door locking and legs are made and temporally fitted. Not complete length, but minimum length of the chimney is also made. So I have fired it just to check the air flow.
The result was satisfactory. There are no smoke leaking, except from the door. But the door has no lock yet so if I push against the stove to close it completely, then was fine.
そんな心配はさておき、自作ストーブプロジェクト進んでます。
とりあえず、最低限必要な部品類はすべて完成!仮組してスモークテストです。日曜の夜の夜中に仮組完了、次の日まで待てないので早速着火。焚き口以外どこからも煙漏れは無し。漏れのあった焚き口も、ロックなしの状態なので、ロックがつけば問題ないようです。
So the test is passed, now I can start making the legs and othere parts.
テストは成功、これで足などほかのパーツを作り始めることができます。
Legs are fitted. It is foldable.
足部取り付け完了。折りたためるようにしました。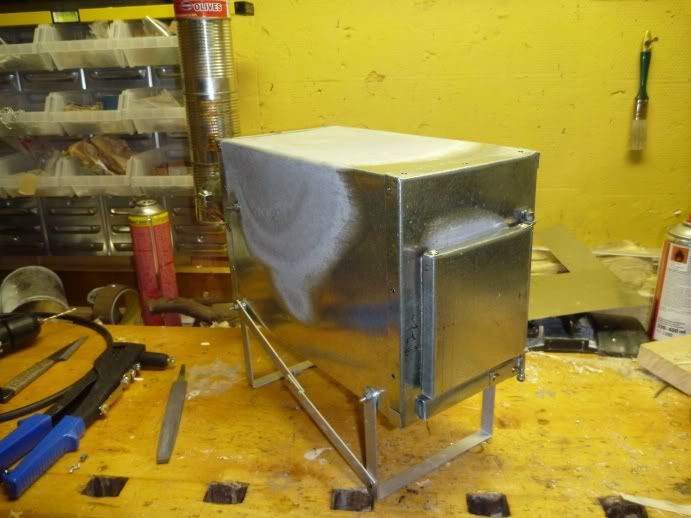 The chimney part, just cramped. The "L" shaped bend was the most difficult construct but managed to make tight fit of 2 cans.
煙突はバンドクランプで止めてあるだけ。まったく問題は無いようです。エルボーは冠二個を使用。これの繋ぎが非常に難しかった・・・