2012年1月4日、初打ちとしてプーッコ2本を打ってみました。本年の鍛冶作業の安全と、技術の向上を願いつつ火打石で切り火をした後、火床への火とりも火打石を使いました。
本当はプーッコ1本と、鍛接物1本を打つ予定でいたのだけど、鍛接に失敗。もう一度やり直すほどの炭も無かったことと、失敗で初打ちを終えるのは気分的に良くないのでプーッコをもう一本。今年は鍛接をしっかりと身に付けねばなりませんね。
First forging of the year 2012. I have forged 2 puukko blades. Originally, I was planing on forging 1 puukko and 1 forge weld work. but, I have failed on forge welding and did not have enough charcoal for second try. so made one more puukko.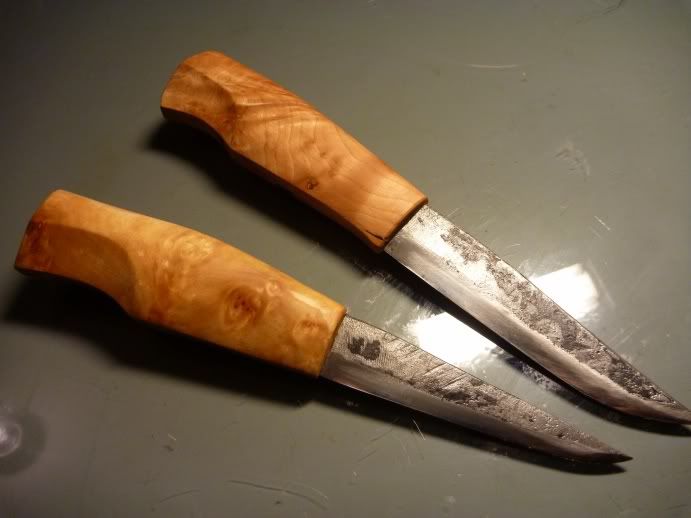 刃渡り11cm(上) 9.5cm(下)
全長22cm(上) 20.5cm(下)
コンシールドタング
スカンジフラットグラインド
シースはまだ作ってません
ところで、今まで鍛冶作業の様子のビデオを撮影したことが無いのに気がつき、早速今回は撮影してみました。自分の作業を違う視点から見ることが出来、とても勉強になります。上手な人の映像は良く見ていますから、重ね合わせてみることが出来、違いが一目瞭然です。これからはもっと頻繁に撮影していこうかと思います。
I also have realized that I have not uploaded any forging work video, so have made one this time. It is very interesting to watch how I work. Learning from myself what / how I should be doing.
however, here is the video, if you are interested in this kind of thing.