ついにスノーシューを手に入れた!昨年は自作し、カンジキ(スノーシュー)を初体験。すっかりその魅力にはまったのは良いものの、やはり急仕立ての自作スノーシューではあちらこちらが使いにくい。そこで今年はまともなのを入手。
I have made DIY snowshoe last year and have had lots of fun, but since it was quick made pvc snowshoe, it was not as good as it could have be. But this year, I have got this "real" snow shoe.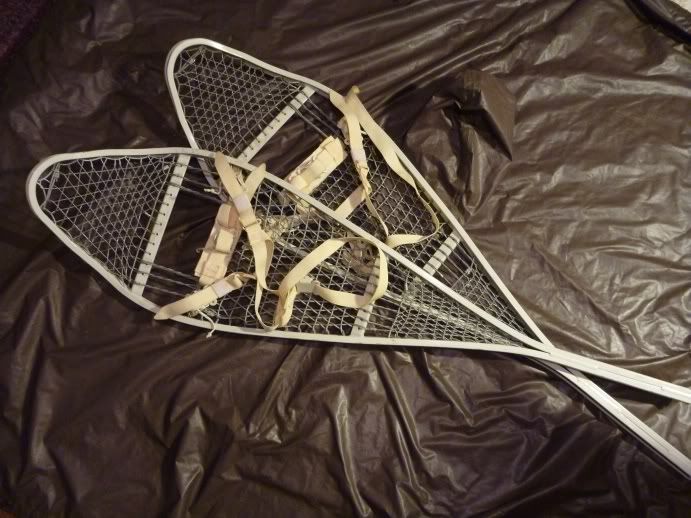 これはアメリカ軍放出品のスノーシュー。本体はマグネシウム合金とワイヤーで出来ています。バインディングは非常に単純にツーピースバインダー。つま先とかかとにストラップをまわして締める方式。
このスノーシュー、何が良いって・・・
1>
まずは値段!
通常の新品スノーシューの約半分。本体は使用済みですが殆ど使用感がありません。バインディングは新品。
2>
そして形!
材質は金属ですが、トラディショナル・カナディアン・スノーシューと同じ形。これは非常にブッシュクラフト感があります。
使用感は??まだ使ってません・・・最近になってやっと十分な積雪になったので今週末にでも使いにいってこようと計画中。ブッシュクラフト仲間数人の話では非常に歩きやすいとのこと。
楽しみ楽しみです。
This is an army surplus snowshoe and is commissioned after WWII. Frame made of magnesium, webbed with steel wire. I have been hearing good thing about this snowshoe and I really like the shape of it. It has got very traditional shape which is very "Bushcraft" looking… well you need to ignore the fact that the materials used are metal…
When I was putting the bindings, I have realized that the instruction came with it are useless.
It is not clear and half of the instruction was missing from the package I received. So I looked up the missing page from inter net along with different pictures of same snowshoe to try to figure out. But…
This does not make any sense!!!
Well,, on the end, this video shows how I have done and I think it is correct….