どうやら,あの斧について興味を持った方が多いようなので、昨日に記事の続きに入る前に、Mikko Artemyevについて追加。
Mikko Artemyevロシアの鍛冶屋さんで、斧を中心に作っているようです。斧以外にも色々な伝統的な木工道具も作るようで、ドローナイフや洋式チョウナなどもハイクオリティーに作っています。彼のページは、ナイフショーのページにある出品者リストからリンクがありますのでそちらを参照してください。ロシア語のみのページで少し面倒ですが、適当にクリックしていくとギャリーが見れます。
There seems to be quite many people interested in the work of Mikko Artemyev the Russian axe maker. So before stat the today's topic, I will post bit more about him.
He makes axes but also other traditional wood working tools like drawknife, adze and so on. All are very high quality, well-made forged tools. You can find his website from Helsinki knife show's page. There you will find the contact info and nice gallery of his works. The page is only in Russian, but I am quite sure, you will find your way quite easily.
-----------------------------------------------
では、今日のお題に入ります。
まずは
Knife.ee
この出品者のテーブルは異色で、去年もそうでしたが、とても楽しめます。そもそもKnife.eeはエストニアのナイフメーカーのフォーラムで。展示されているものは全て違う作者の物。プリミティブ系のものからモダン、タクティカル系の物まで色々と見ることが出来ます。
OK, let's start today's topic!
The First one is Knife.ee
I really enjoyed the presented knives from Knife.ee last year, because of its variety and so this year. Knife.ee is representing several different makers from Estonia, so naturally the table is filled with so many different styles of knives.
the primitive looking to modern looking knives. All are very interesting.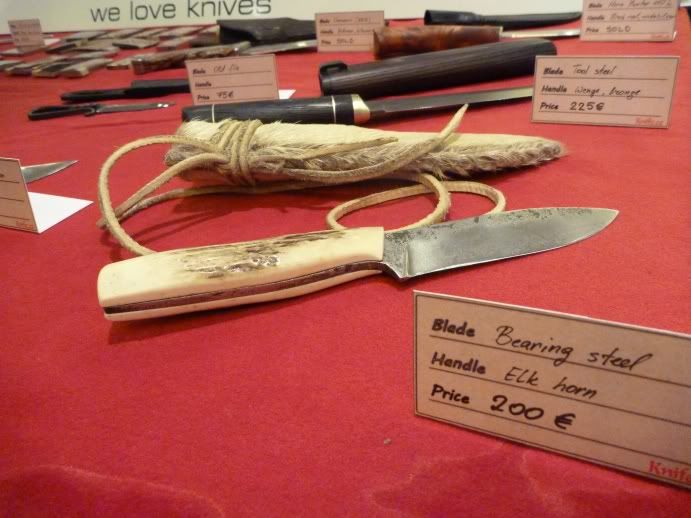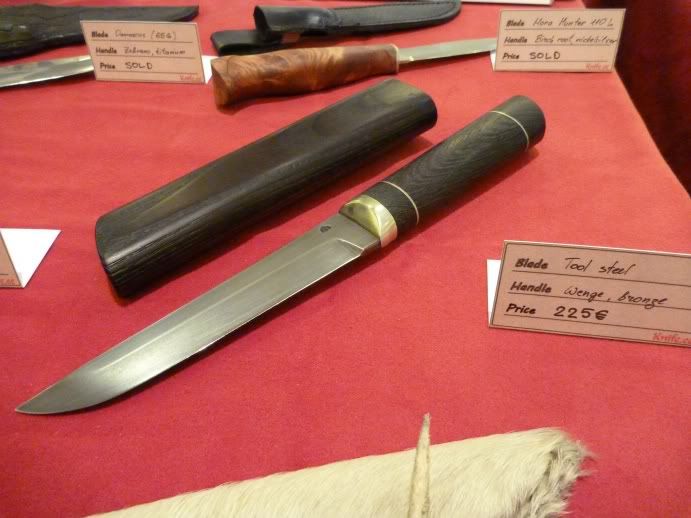 Pekka Tuominen
ン~・・・はっきりいって少し残念なテーブルの一つとなってしまったのがこれ。出品数が少ないのも理由なのだが、あまりパットしないちょっと中途半端なものばかりだった気がします。が、しかしそれでもペッカ・トゥオミネン。クオリティーのすごさは光ってました。例えばこのレウク。
To be honest, I was dissapointed with his table. Their war not many presented and the one presented were not really "standing out". But still, Pekka Tuominen's skill quality was shining. For example, this leuku.
何の変哲もないレウクなのだが、なにか違う輝きを持っている。
it is strait forward leuku. But still is different and standing out from the crowd.
そしてとても興味深い挑戦。レウク・フォルダー
And the interesting attempt. Leuku folder.
Theo Eichorn
今回のショーで一番注目していたメーカー、期待は裏切られませんでした。出品されているプーッコを見ているだけでもう、どれだけプーッコが好きなのか伝わってきます。しっかりと長間話をし、メール交換までして頂けました。
ナイフの方も、非常に基本トラディショナルなものからドレス・プーッコまで手がけ。アメリカンなテーストのものや果てはネスムクのスキナーまで。こういう幅の広いメイカーは非常に好きです。
The maker I was most interested in meeting. I have had chance of talking with him and quite long time. He is informed with many different knife / cutting tool culture and was very interesting talking with him.
Also the work of his have variety of basic traditional puukko to modern, Also may with American style or with American taste. I really like this type of wide range maker who are not afraid of stepping out from the traditional line, yet keeping the tradition. ?? << Hope this make sense…
というわけで3回目になるこのショー、スカンジナビアNo.1のナイフショーと胸を張って言える様になってきた感があります。第一回目は期待する材料も無く行ったために楽しめた割には後悔の残る結果。二回目は、期待があっただけに非常に残念に感じる結果に。しかし今回は、期待とか感情とかぬきで素直に「よかった!!」といえるショーだったと思います。そして来年、再来年とさらに成長していくのではないか?と思わせる活気もあります。来年のショーに向けてお財布を厚くしなければ・・・
So, this was the report of the 3rd Helsinki International Knife show. I hope you enjoyed. In my opinion, this show has become to proudly pronounce as the "No,1 knife show" in Scandinavia. The size of the show, variety, and quality of the exhibit is becoming bigger and better. I shall expect more growth for next year and looking forward to visit again. And I need to work on thicken my wallet till then…
Oh, One request or wish for the show next year… Please have more knife making material supply. I know I can get all what I need through internet, but it would be better to see / inspect the products before buying. Also talking to supplier, I (we) get more understanding of the material you have.